David Razowsky, The "Guru" of Improv returns To South Florida In September
Enjoy a rare opportunity to be trained in South Florida by a legend in improv.  David Razowsky is known as the "guru" of improv.  His workshops will instantly transform your ability to understand what it means to be enough, to be in the moment and to be present.  Whether you are a beginner or a seasoned professional, David doesn't care.  He can get anyone to produce incredible results instantly.These workshops will help you dive into what makes you the best version of you that you can be. Take one or take all three.  They will all be different.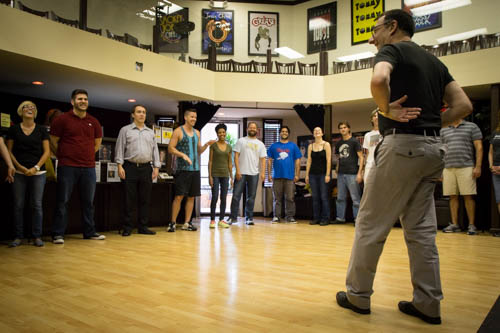 You can sign up for 1, 2 or 3 workshops.  It's completely up to you!  Not interested in taking a workshop and just want to see a show with him in it?  Purchase that ticket by clicking HERE!Click here for Friday, September 11th - $99 for 3 hoursClick here for Saturday, September 12th - $149 for 6 hoursClick Here for Sunday, September 13th. - $149 for 6 hoursDavid Razowsky is the respected teacher and former artistic director of the Second City Los Angeles, and, as an actor, has written and performed in ten Second City Chicago revues. During his tenure as a performer at Second City he worked with Steve Carell, Stephen Colbert, Jeff Garlin, and Amy Sedaris, among others. David directed Second City Chicago Mainstage's No, Seriously, We're All Gonna Die, Second City LA's, Encino Evil, The Second City Untitled Project, The Second City Detroit's acclaimed 19th Nervous Breakdown, and The Second City National Touring Company. He directed two of Amsterdam's Boom Chicago theatre's productions-- RockStars, and their critically acclaimed Live at the Leidseplein - Your Privacy is Our Business. David is credited with creating Boom's signature live on-stage video production. He is a member of the Reduced Shakespeare Company, and performed in their sold-out run The Complete Works of William Shakespeare, Abridged at the Kennedy Center in Washington, D.C. He is a co-founder of The Annoyance Theatre, and has written for The Simpsons Comic and The Simpsons nationally syndicated Sunday comic strip. David has appeared on Spin City, Roseanne, The Young and the Restless and Late Night with David Letterman as the voice of Albert Brook's parrot. David and his improv partner, Carrie Clifford, perform Razowsky and Clifford in improv fests around the globe.